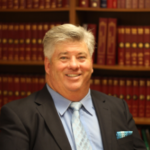 If you've ever been arrested in Florida, you know the feeling.  You panic and wonder who do I call to get me out of this?  When you've been arrested, there aren't a lot of options in most cases.  Some you wouldn't want to call out of embarrassment, others you wouldn't call because they can't help.  The only concern you have is to get out of jail as quickly as possible.  There are tons of bail bondsmen in the Tampa Bay area and, like any other profession, there are some you can trust and others you can't.  But how can you know the difference?  Chances are you can't and don't.
That's why you're first call should be me, John McGuire.  I'm a trusted, local attorney that's been practicing criminal law in Tampa Bay for decades.  I know the right bondsmen and can help save you money.  In some instances, hiring a bondsman is a waste of money because, depending upon the charge and your particular circumstances, I may be able to get you released on your own recognizance after the Advisory Hearing where you appear before the judge.  a judge will review your bond within 24 hours of your arrest. The hearing is called an Advisory or a First Appearance. During the Advisory, the judge will review the amount set for your bond and change it as appropriate. Again, depending upon the circumstances of the crime with which you are charged and your standing in the community, I may be able to get out of jail pending your trial.  In other cases, I can argue that the bond should be reduced. The judge will also advise you on what charges you are facing and any restrictions on your bond.
While a good, reputable bondsman may be able to get you out of jail, you're going to have to pay him 10% of the actual bond amount.  That can run into a sizable amount depending upon the charges against you.  If you call me before making a decision, you may end up saving yourself the expense.  In all instances, it's always better to have an experienced, trusted criminal attorney at your side from the outset.
So, if you've been arrested, call me.  I'll give you my cell number:  727-698-9636.  I can guide you through the process.  I'm available 24/7.