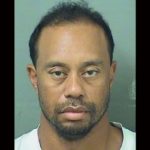 Tiger Woods' mug shot after his DUI arrest in Jupiter, Florida says it all.  There's no question the photo shows impairment.  Now whether the impairment is from alcohol or prescription medication doesn't really matter in terms of the rules of the road and Florida statutes.  Prescription narcotics come with warning labels about not operating machinery while taking this drug.
Woods' statement some fifteen hours after his arrest demonstrates that he doesn't understand that.  It doesn't really matter if he had a bad reaction to a legally prescribed drug.  The fact is he drove while impaired.  That's all the law cares about.  That's really all that should matter given the fact that so many people lose their lives in DUI-related crashes.
Anyway, here's Tiger's statement:
"I understand the severity of what I did and I take full responsibility for my actions," Woods wrote in his statement. I want the public to know that alcohol was not involved. What happened was an unexpected reaction to prescribed medications. I didn't realize the mix of medications had affected me so strongly." Woods apologized to his fans and pledged to "do everything in my power to ensure this never happens again."
It was the first time Woods has run into trouble off the golf course since he plowed his SUV into a tree and a fire hydrant outside his Windermere, Florida, home in the early morning after Thanksgiving in 2009, which led to revelations that he had had multiple extramarital affairs.
A police report then showed that a Florida trooper who suspected Woods was driving under the influence sought a subpoena for the golfer's blood test results from the hospital, but prosecutors rejected the petition for insufficient information.
A witness, who wasn't identified in the report, told the trooper he had been drinking alcohol earlier. The same witness also said Woods had been prescribed two drugs, the sleep aid Ambien and the painkiller Vicodin. The report did not say who the witness was but said it was the same person who pulled Woods from the vehicle after the accident. Woods' wife has told police that she used a golf club to smash the back windows of the Cadillac Escalade to help her husband out.
He eventually was cited for careless driving and fined $164.