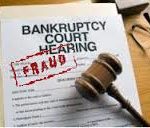 Lifetime's "Dance Moms" star Abby Lee Miller found out the hard way that you can't fool around with federal bankruptcy laws and get away with it.  She has been sentenced to one year and one day in federal prison, followed by two years of supervised release, in addition to being fined $40,000 and ordered to pay a $120,000 judgment.
Miller's problems began in 2015 when she was charged with hiding nearly $800,000 of income while going through Chapter 11 bankruptcy proceedings between 2012 and 2013.  Further, Miller was accused of smuggling $120,000 in Australian currency into the country without declaring it at customs as is mandated.
Bankruptcy fraud is a federal crime and has stiff penalties attached to it if convicted.  The federal criminal statutes most associated with bankruptcy crimes are 18 U.S.C. §152 (listing numerous bankruptcy crimes) and 18 U.S.C. §157 (bankruptcy fraud).  Misconduct during the course of a bankruptcy case can also potentially be prosecuted as mail fraud, perjury, obstruction of justice, conspiracy, false statements, money laundering and a wide range of other statutes, depending on the particular facts of the case.
Although the vast majority of bankruptcy crime prosecutions focus on debtors and creditors, a number of cases over the past several years have shown that participating in an effort to circumvent the honesty requirements of the bankruptcy process—whether as counsel for a client or individual—can subject an attorney to criminal liability. Attorneys who participate in bankruptcy cases should be alert to the fact that any participation in their clients' efforts to cheat the system can not only lead them into ethical problems and potential disbarment, but can also lead them to jail.
When I review a bankruptcy case prior to filing it in the local bankruptcy court in Tampa, I scrupulously review all the information provided to ensure that nothing is missing or concealed.  After all, it's my reputation and my life on the line as well.
The privilege to practice law does not confer upon an attorney a license to use his or her skills to manipulate the legal system to the advantage of clients or to his or her own personal advantage. Attorneys are ethically required to be honest in their dealings with the courts, clients and other attorneys, and must report the unethical acts of others in their profession or risk being disciplined for failure to do so. I take this seriously in all my dealings with clients and potential clients.  If you are interested in filing a bankruptcy case and want me to represent you, I will do so to the best of my ability.  What I won't do is commit a crime or enable you to do so.  In the long run, it's not worth it and it's just not the right thing to do, period.