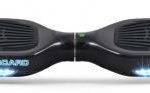 Hoverboards have become the rage for the young and not so young who want to motor around town, through malls, or go for a ride.  However, there have been reported serious problems with the hoverboard.  They are  electric self-balancing scooters, much like a small Segway without the handlebars. Despite the "cool factor," this trendy new fad has a hazardous side. The news has been peppered with reports of hoverboard hazards and defects, leading to destructive explosions and fires. Some cities have already banned them from their roads and many airlines won't let you bring them onto planes. Even retailers such as Amazon have stopped sales of some models and have offered full refunds.
The problems have come to light after the hoverboards have burst into flames while in use as well as when they are being charged.  One owner lost his house to a fire as a result of a hoverboard combustion.  In July 2016, Consumer Product Safety Commission issued a recall due to the product's fire hazard.  The recall states that "The lithium-ion battery packs in the self-balancing scooters/hoverboards can overheat, posing a risk of the products smoking, catching fire and/or exploding.  This recall involves Powerboard brand self-balancing scooters, commonly referred to as hoverboards. The hoverboards have two wheels at either end of a platform and are powered by lithium-ion battery packs. Powerboard brand hoverboards model #PB-001 were sold in green, blue, black, red, white, chrome, gold chrome and pink, and can be identified by the POWERBOARD marking on the left side of the board.
There have been 27 reports of the self-balancing scooters/hoverboards overheating, sparking and smoking, including one report of property damage. No injuries have been reported."
Hoverboards are dangerous and their manufacturers are responsible for these defects which have caused serious, sometime permanent injury as well as property losses due to fires and explosions.  If you or a loved one have experienced a problem with the Hoverboard, call us for a free consultation.