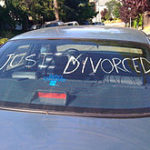 Divorces in Florida outrank most of the other states in the country.  Florida's rate of divorce is the third highest in the country.  If you add that to the crime rate, affordable housing issues, work related stress, and overall health, Florida doesn't fare so well in comparison to other states.
Roughly 50,000 couples file for divorce each year. More than 15 percent of the state's residents are divorced or separated. Of the 50 U.S. cities with the highest divorce rates, 11 are in Florida.
The fact that Floridians are divorcing at higher rates than most other Americans may be attributed to the size of the state itself.  Florida ranks fourth in terms of population only behind California, New York and Texas.  While that can't be ignored, it would be a mistake to blame Florida's size on its high number of divorces.
Some have noted that Florida's no fault divorce system contributes to the number of divorces, making it easier to obtain one without any need for explanation or justification.  Others have argued that Florida is the ideal destination to start over.  The warm climate, geographical and cultural diversity contribute to Florida's attractiveness as a place to get a fresh start.  Another factor related to the last concerns the lack of communities and neighborhoods in the Sunshine State.  People move in and out of Florida so often, there is little permanency to a locale's cultural landscape.  This can leave people and families without deep-rooted connections to their neighborhoods and extended families.
Whatever the reason may be, Florida has a high divorce rate that contributes to the stress level of individual Floridians.  Whether we like it not, this impacts all of us who live and work here.  In my experience as a divorce lawyer in Florida, the end of a marriage and subsequent divorce only contributes to the stress.  If you've decided that is the path for you, make sure you have the proper personal and professional support to ease the burden of divorce in Florida.