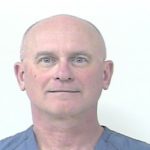 The Florida House had just wrapped up its third week in the 2017 session and state Rep. Cary Pigman was driving his Jeep with a license plate that reflects his House district, "H55," back to his home district when a Florida Highway Patrol officer who'd been following Pigman noticed that he was driving erratically, weaving in and out of lanes and crossing over into the right shoulder of the southbound lanes of the Florida Turnpike.
As the patrolman approached the driver's side of Pigman's vehicle, he noticed a strong odor of alcohol and an open wine bottle in the unoccupied front passenger seat.  Pigman denied that he'd been drinking in response to the police officer's question.  He was asked to perform a field sobriety test and failed miserably.  The trooper said Pigman was so off balance that he "almost fell" while being given a field sobriety test. He was booked into the St. Lucie County jail in Fort Pierce and his Jeep was towed away.
Rep. Pigman had been stopped by Florida Highway Patrol at 10:44 p.m. near the Fort Pierce Service Plaza in St. Lucie County, the arrest report said.
Nearly three hours after Pigman was pulled over, his blood-alcohol level was sampled at 0.14 percent and 0.15 percent, both above the .08 percent legal limit for driving in Florida.
During the stop Pigman told the troopers he was traveling southbound to see family in Okeechobee County. The stop occurred seven miles south of Exit 152 for Okeechobee Road in Fort Pierce.
The arresting trooper reported a BOLO, or "be-on-the-lookout," had been issued for a reckless southbound motorist shortly before the traffic stop. Troopers reported following the Jeep as it drifted across lanes and once into the right paved shoulder.
After posting a $750 bond, Pigman was released from the St. Lucie jail at 8:15 a.m. on Friday.
In addition to serving as a state representative, Pigman is an emergency medicine physician and chairs the Health Quality Subcommittee in the House. Married with five children, he's a veteran of the U.S. Navy and U.S. Army reserves who saw duty in Iraq, Guatemala and Kuwait from 2011-2013.
His failed field sobriety test and his BAC tests can only be aggravated by the fact that he lied to the officer when asked if he'd been drinking.  It would have been much smarter for him to remain silent rather than lie to the officer when asked about his drinking.  This can only serve to further damage his reputation in the eyes of a jury if the DUI case goes to trial.  Obviously, the open wine bottle won't help him either.
While I don't know Dr. Pigman, it seems that this is a case of either extremely poor judgment or a case of someone who thought he was above the law, after all he is a doctor, an elected official, and a veteran.  Either way, the law doesn't consider any of that as relevant.  It appears as if this is his first DUI offense, he'll need a good DUI lawyer.  The initial evidence appears stacked against him.