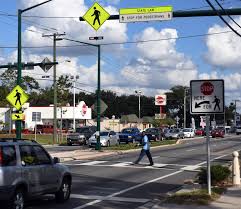 Pinellas County has the dubious distinction of leading all urban Florida counties in the number of car accidents involving pedestrians and bicyclists.  The latest "Traffic Crash Trends and Conditions Report" released late last fall showed Pinellas County has a pedestrian fatality rate that's 80% higher than the national average.  It's a problem that gets worse during the winter months when we experience the influx of snowbirds, spring training fans, and spring break vacationers.
So what are our Pinellas County officials going to do about this?  Well, the Pinellas County Sheriff's Department recently announced that they've received a $30,000 grant to begin an education and safety project at nine different hot spot areas in the county to attempt to reduce traffic crashes and fatalities involving pedestrians and bicyclists.
Beginning next Monday and lasting through May 15, Pinellas County deputies will be conducting what is being called on-the-street high-visibility education and enforcement details that will stress the importance of pedestrian and bicycle safety. The Florida Department of Transportation is funding the project at a cost of $29, 640.
The "hot spots" have been identified as:  Seminole Boulevard (Walsingham Road to 94th Avenue) and
— Ulmerton Road (Belcher Road to 58th Street North)
— Main Street/ SR 580 (Belcher Road to Patricia Avenue)
— Pasadena Ave. (Grevilla Ave. S to Gulf Blvd.)
— Gulf Boulevard (75th Avenue to 37th Avenue)
— Gulf Boulevard (129th Avenue West to 131st Avenue West)
— Gulf Boulevard (150th Avenue to 155th Avenue)
— Gulf Boulevard (Central Ave to 1st St)
— Curlew Road (Belcher Road to Northridge Drive)
In my opinion, these are good intersections to begin to focus their prevention efforts.  However, the prevention efforts are temporary fixes to a permanent problem.  The operation will include the distribution of educational materials, as well as the issuance of warnings and/or citations to pedestrians, bicyclists, and motorists in accordance with Florida Statutes. The operation will follow a two-phase progression. Phase one of the operation will focus on education and the issuance of warnings to violators. Phase two of the operation will focus on the issuance of citations.
The assigned deputies will conduct high visibility patrol details three times a week, at 9 different predesignated "hot spots," over the three month period. Deputies will also be handing out free bike lights to those bicyclists they come in contact with that need lights.
This won't fix the issue.  It's analogous to putting a band aid on a bullet hole.  Our streets are clogged and the roads are not designed properly for pedestrian and bicycle traffic.  Of course, that solution would cost much more than what a $30,000 grant will cover.  Unfortunately, this is nothing more than a thinly disguised public relations ploy that won't save citizens' lives.  Until county, state, and federal officials get serious about this problem, the crashes will continue and the death toll will mount