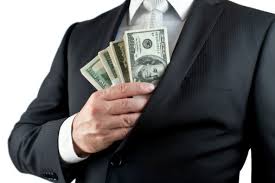 In my last post, I wrote about the Florida civil theft statute and mentioned that this statute is not often employed as a legal strategy.  However, when it is used, civil theft claims often involve embezzlement.  It is a form of theft that involves a relationship between the thief and the victim.  The one accused of embezzlement had been entrusted with the care of money or property by the victim.  The one to whom the money or property is entrusted seizes the property without the authorization or knowledge of the victim for his own personal gain.
Generally, allegations of embezzlement will lead to criminal charges.  In some specific instances, a civil theft claim may also be brought against the thief in order to recoup what was lost and receive monetary compensation for the damage caused by the original theft.  As I wrote in my last post, a civil theft lawsuit must be preceded by a written demand letter which describes the allegations and a demand for payment.  If the person who's accused of theft responds and complies with the terms set forth in the civil theft demand letter, the civil theft claim must be dropped and the other party must be notified of same.
An article in the Florida Bar Journal describes how damages are to be considered in a civil theft claim.
"Consideration should be given whether the economic loss rule (no recovery in tort where the case is purely contractual) may actually bar the civil theft claim. . .The availability of the civil theft remedy as an additional legal weapon has created new incentives to take "two bites from the same apple" and plead both a tort cause of action ("civil theft" or "conversion") and a breach of contract claim based on the same facts. In Gordon v. Omni Equities, Inc., 605 So. 2d 538 (Fla. 1st DCA 1992), the court held a civil theft action may be maintained, notwithstanding the contractual relationship between the parties, where the plaintiffs pled that defendant "knowingly obtained plaintiff's money [in a stock transaction] by fraud, willful misrepresentation of a future act, false promises or by false pretenses, fraud or deception, with intent to deprive them of the right to the property or the benefit therefrom in violation of Chapter 812, Florida Statutes."
Embezzlement can provide the right circumstances for a victim to pursue a civil theft claim in addition to criminal charges.  While Florida statutes demand strict adherence to the requirements set forth in the civil theft statute, such a civil action may allow a victim to recoup his losses and be remunerated for the damages he suffered.