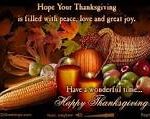 I wish everyone a very happy and joyous Thanksgiving.  I'm not going to regale you with the countless blessings for which each of us will (hopefully) give thanks this coming Thursday.  However, I will take a few moments to mention a few issues that always mar Thanksgiving celebrations.
Most of us will spend the holiday with relatives and close family members, some of whom may annoy us or with whom we don't have the best relationship.  This can cause tension and stress especially as you anticipate dinner conversation or time spent alone with people to whom you're not especially close.  As a professional negotiator with years of experience dealing with daily conflict, put your issues aside for one day and just accept others as they are and not who you would have them be.  Ultimately, it doesn't matter who's to blame for the issues.  Try to enjoy the one day a year we set aside to be thankful.
On that note, tomorrow is traditionally travel day and there will be an estimated 49 million people in the United States on the roads and in the skies tomorrow.  That in and of itself can create tension and shattered nerves.  Once these folks arrive at their destination, many of them will go out to a local bar to see old friends.  In and of itself, that's a good thing.  But, did you know that tomorrow night is one that will be the scene of many DUI arrests, the night before the big day.  It's avoidable, though.  If you plan to travel and then go spend some time relaxing with friends or family at a bar or local watering hole, make sure there's a designated driver.  The police will be out in full force all over the country tomorrow.  A DUI on the night before Thanksgiving will ruin Thanksgiving and most likely Christmas and New Years as well.  So, let's be thankful and be careful out there.