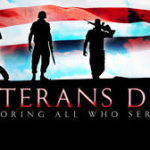 On this most solemn day, I thought it would be fitting to set aside my normal posting concerning legal issues and focus on the meaning and history of Veterans Day.
Veterans Day was first observed in 1919, a full year to the day marking the official end of World War I, which at the time was considered "the war to end all wars".  President Woodrow Wilson, who coined the phrase, was nothing if not a wordsmith.  Unfortunately, he wasn't much of a prognosticator.  Two decades later, another massive world war would break out in Europe, again drawing in a reluctant and war-weary United States.  While many historians note that World War II had its roots in the Treaty of Versailles and the punitive measures it imposed on Germany for its role in World War I, the second World War had a greater impact on the world than its predecessor.  That is why in 1954, after World War II and the Korean War, the US Congress changed Armistice Day to Veterans Day, no longer celebrating the end of World War I but proclaiming November 11th a day when the nation would stop and honor all veterans.
November 11, 2016 holds special significance for us as republic.  We are exhausted by a bitter and contentious presidential campaign cycle that was too long, too partisan, and too personal.  I am hopeful that this year's Veterans Day will allow us the time and good sense to hit an emotional reset button.  I am hoping today we thank all the Veterans we know and perhaps seek out those we do not know and tell them thank you for their service to our country.  After all, while we may have the luxury to complain about the recent election, they paid the ultimate sacrifice for just this freedom.  Without their service, we may not have the luxury to complain and protest.  In this republic, our freedoms are only ensured to the extent that there are brave, freedom loving people who are willing to sacrifice their lives for the rest of us.  That deserves our gratitude and our commemoration.