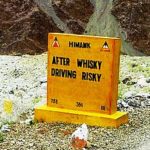 Now that Halloween has passed, we can turn our attention to the holidays with Thanksgiving and Christmas around the corner.  We begin making plans to be with friends and family at holiday dinners and parties.  Soon after Thanksgiving, office parties begin.  Holiday revelers aren't the only ones stepping up their plans.  Law enforcement agencies start more DUI patrols with wolfpacks and DUI checkpoints.  With the holidays just around the corner, drinking gets a little more frequent and heavier.  If you drink and drive during the holidays, it may be the worst decision you make this time of year.
The State of Florida drunk driving laws prohibits driving any type of vehicle with a blood alcohol concentration (BAC) of .08 percent or above. The .08 percent BAC limit is the standard measurement used across the United States for the "impaired" driver.  There are many factors that determine a person's BAC including age, size, gender, physical fitness, and the medications you are taking.  The old conventional wisdom was that you're safe if you consume one drink every hour but that is notoriously unreliable.

If you plan to drink at a family event, social gathering, or an office party, it's much smarter to designate a driver who will not be drinking alcohol at all.  If that's impossible, make arrangements to take a cab or an Uber.  Remember, you can be charged with DUI even if your BAC is under .08 percent.  If a police officer stops you and determines you are impaired (including from the use of prescription medication), you can or most likely will be charged with DUI.
If you are arrested for DUI, the emotional, social, professional, and financial consequences can ruin your holidays and beyond.  However, if you are charged with a DUI, you will need a Florida DUI lawyer who has the experience to represent you so that your rights are preserved.  As a Clearwater DUI lawyer, I have more than 30 years experience handling these tough cases.  With that experience, I am also here to tell you, think before you drink and decide to drive.  It just isn't worth it.  Even if I am successful in defending you, the anxiety and the stress caused by being arrested and having to go to court, isn't worth a few drinks at a holiday function.