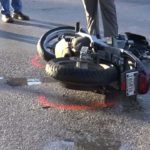 Motorcycle accidents in the Tampa Bay area are happening more frequently across Tampa Bay this year.  If the trend continues, it will amount to a motorcycle fatality once every four days.  According to most recent statistics (2014), Florida leads the nation in motorcycle accidents.  Experts who monitor these numbers believe that if the current wave continues, approximately 100 lives will be lost to motorcycle accidents in the Tampa Bay area this year alone.
Florida leads the pack in motorcycle fatalities. One in every five people killed in highway crashes here is on a motorcycle, even though bikers represent only 7 percent of the licensed motorists.
According to a Florida Highway Safety and Motor Vehicles report of traffic crashes in 2014, the most recent statistics available, the state holds the top spot even though the number of biker crashes and fatals dropped from the year before.
In 2014, 449 motorcyclists and/or passengers died in traffic wrecks compared to 462 in 2013. That's just over a 3 percent dip. The trend was more pronounced in Hillsborough County, the report said, where 31 people were killed on motorcycles in 2014, compared to 44 the year before.
There are many factors that lead to motorcycle accidents.  Debris in the roadway, clogged roads, other driver inattention, and poor decisions made by the drivers of other vehicles sharing the roads with bikers.
A fender bender involving two four-wheeled vehicles may cause minor injuries but if that same crash involves a motorcycle it may be a fatal accident.  Unfortunately, bikers have no room for error, either their own or some other driver's error.
If you or a loved one, has been involved in a motorcycle accident, please call us for a legal consultation.  We are proud to have represented many bikers and strive to ensure their safety and well-being on the Bay area roads and bridges.  In the meantime, let's all be more careful out there.