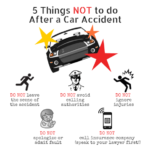 In my last post, I wrote about 7 things you should do after a car accident.  In this post, I want to discuss the five things you should never do after a car crash.  They are just as important as the things you should do and both should be read carefully since the could have legal consequences for you.
Here are the 5 no-no's:
1)Leave the scene-This should be a no-brainer but people still do it.  Leave the scene of an accident, whether you were at fault or not, is a crime.  It may be a felony if injuries were sustained.  In any case, a misdemeanor criminal offense, especially one that could be easily avoided, is just a dumb thing to do.  So, don't do it!
2)Failure to Exchange information and maintain/preserve evidence-after an accident, make sure you get the pertinent information from the other driver involved in the accident including name, address, phone number and insurance information.  Also, take photos.  Everyone has a smart phone these days.  Use it to take photos of the damage, any skid marks, area around where the accident occurred, and road conditions.
3)Don't discuss the circumstances of the accident other than with police.  Don't admit guilt.  If the other driver admits fault for the accident, write it down as accurately as possible.
4)Refuse medical attention-in the immediate aftermath of an accident, adrenalin is flowing and you may not be aware of any injuries you may have sustained, including serious internal injuries.  It is always best to go to the hospital and get thoroughly checked by a physician.  The next day you will feel the after effects of the collision and will regret not being treated immediately.  You may also suffer needlessly if you don't get proper and prompt medical attention.
5)Deal with the insurance company on your own-there's no law saying you can't talk to the insurance company by yourself but wouldn't it be smarter to have a trained profession who is used to dealing with all the issues surrounding a car crash?  Call a lawyer.  I will give you a free consultation, discuss your particular circumstances and advise you as to your best course of action.