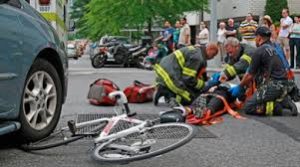 The Tampa Bay Times published an update on dangerous intersections for bicyclists. I wrote about this over a year ago and the situation hasn't improved. In fact, it has become worse for those who use their bicycles for recreation or for work.
According to the Times, "All of the intersections — eight are in Pinellas County, two in Hillsborough and one in Pasco — have many lanes for cars but only two have dedicated bike lanes. And most share another common trait, local planners say: They are in or near low-income areas." This is a particularly difficult problem for those who rely on their bikes as their only mode of transportation to get to and from work.
In Tampa, the intersection of Fowler and Nebraska is one of the most dangerous. There were 15 crashes at the intersection in the last seven years, the Times analysis of data from the Florida Department of Highway Safety and Motor Vehicles shows.
"The challenge we have is that these roads used to be country highways that are now in the center of a major metropolitan area, and the infrastructure hasn't caught up," Beth Alden, executive director of Hillsborough County Metropolitan Planning Organization said. "So we have a mix of high speed traffic and all kinds of businesses along these roads that people want to get to in their cars, but also by walking and by bike."
The intersection with the most crashes, W Bay Drive and Seminole Boulevard in Largo, had 19 crashes resulting in 17 injuries. There are no bike lanes, only "sharrows" — arrows and bicycles painted on the pavement to remind motorists that cyclists have a right to be there, too.
It's a similar scene at 66th Street and N 54th Avenue where one cyclist was killed in one of the 18 crashes there. It's in west Lealman, a working-class Pinellas neighborhood that has been the focus of the county's revitalization efforts. There are many lanes of traffic and businesses on every corner including a CVS, a Walgreen's and McDonald's. There are no bike lanes.
All of the Pinellas intersections on the Times list are in commercial areas where motorists, cyclists and pedestrians are sharing the same space, said Whit Blanton, executive director of Forward Pinellas, the county's transportation planning agency. Many of the thoroughfares are serving dual purposes as arterial roads getting motorists to interstates and as local streets providing access to homes and businesses. And they're tricky for cyclists because they have many so-called points of conflict — places where a cyclist's path can cross with a vehicle's.
The lack of bike lanes coupled with driver's attitudes toward bikes makes the problem worse. All too often, drivers treat bikers as if they are in the way or a nuisance. Aggressive driving and a lack of communication between biker and driver don't help matters either.
Until we can fix our roadways and change attitudes, bicyclists will continue to be injured or die in Pinellas and Hillsborough County. The tragedy in all this is that most of these accidents are avoidable.