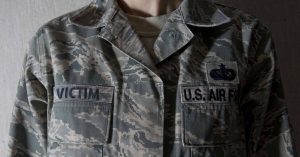 Congress is considering legislation that would expand disability benefits to veterans who've suffered trauma as a result of sexual abuse.  However, the Department of Veterans Affairs opposes it because the bill is overly broad.  The Department also wants corroboration of the abuse.
Of course, anyone who has worked with sexual abuse trauma victims knows that there are rarely, if ever, witnesses.  This only adds insult to the person who is re-traumatized by being forced to produce "proof".  This is not a car accident!
Approximately 6 percent of female service members and 0.7 percent of male service members were victims of sexual assault in 2018, according to a Defense Department report released last month. The DoD estimates more than 20,000 service members had experienced some kind of assault last year, up from around 15,000 in 2016.
The VA receives an average of 18,000 claims related to military sexual trauma a year, and officials estimate this could jump to 30,000 or more by opening up service-connected disability benefits to mental health disorders other than PTSD.
"I don't think this is an experience people want to share readily, let alone make up," said Elizabeth Tarloski, an adjunct professor at William and Mary Law School who works in the school's veterans' benefits clinic. "I am concerned that differing standards kind of puts our PTSD survivors who are veterans in two different categories. We should believe those who are in combat who can't document what happened, but we need additional evidence from those who suffer from (military sexual trauma), and to me that's troubling."
Tarloski is correct.  It is difficult enough for an abuse victim to come forward and seek help.  When they are faced with the nearly impossible task of producing corroborating evidence such as witnesses, the task becomes that much more daunting.
The present legislation is reasonable and should be passed.
"It is just unthinkable that in this day, we ask people to serve in the military, they have these horrendous experiences … but then people present themselves for claims — and many of them going back an incredibly long period of time — and then hit these brick walls," said Rep. Chellie Pingree, D-Maine, who introduced the legislation.
Among other things, the bill would lessen the burden of proof for military sexual assault survivors applying for disability benefits, requiring the VA to resolve every reasonable doubt in favor of the veteran, as is already standard VA practice for claims of combat-related PTSD.
Military veterans put their lives on the line each and every day.  They are honorable men and women and should be given the assistance they need when they ask for it.  Creating obstacles for brave men and women is not the right thing to do.