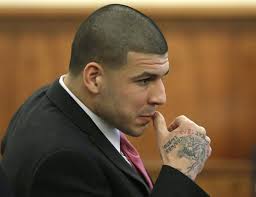 As the news broke late last week that an autopsy of former New England Patriots star tight end revealed severe chronic traumatic encephalopathy (CTE), lawyers for Hernandez' fiancee moved to file a lawsuit against the NFL and the New England Patriots alleging their role in failing to warn the football player of the consequences of CTE.
The revelations led to more questions than answers.  Is CTE a direct result of the violent collisions that take place on every play in the NFL?  Is CTE treatable?  Is it diagnosable?  Is a person with CTE responsible for his/her actions?  These are all good questions that unfortunately have few definitive answers at this point.
In the case of Aaron Hernandez, his descent into a life of violent crime started shortly after his father died.  In previous interviews and multiple news reports, Hernandez and his family said Hernandez was devastated by the sudden death of his father, Dennis, in January 2006, when Hernandez was 16. Dennis' death, the result of complications from hernia surgery, left Hernandez feeling lost and angry, his mother, Terri, and brother, D.J., told USA TODAY Sports in 2009.  Trouble followed him as a star football player at the University of Florida as well.
After Hernandez hanged himself in his jail cell in Massachusetts, an autopsy was performed and his brain was examined for CTE.  What was found surprised everyone.  He had such a severe form of the degenerative brain disease C.T.E. that the damage was akin to that of players well into their 60s.  Can this explain away or excuse his violence? Does it make the NFL and Patriots culpable for the violence and the 27-year-old's eventual suicide?
The real answer is no one knows.  CTE can only be diagnosed post mortem  In the ensuing months, we'll hear arguments from both sides.  The NFL has much to lose in this case.  There are more than 60 former athletes suffering from traumatic brain injuries and others who've had autopsies performed on their bodies revealing CTE.  The NFL is a business and they can't afford to have their brand associated with CTE.
But what about the ordinary person who suffers a traumatic brain injury from a car accident or a fall?  Could they have CTE?  Maybe.  And our kids who are playing Pop Warner or high school football, what about them?  According to a Harvard study, CTE is not limited to professional athletes.  Here's an excerpt from Harvard Magazine a few years ago,
"After what seemed to be mild car accident five years ago, 'John' began suffering from a host of symptoms—headaches, fatigue, irritability, difficulty concentrating. At the time of the accident—John was rear-ended by the driver behind him—he was diagnosed with concussion and mild whiplash. But he and his wife had been struggling with the aftermath ever since.

Brain scans showed no visible damage, and during the next few years John saw several doctors and specialists who gave him a haphazard regimen of drugs and recommendations, but no solutions. Apathy, depression, anger, and mood shifts strained his marriage and family life to the breaking point. "It was just an awful situation," he says. Finally his wife got him an appointment with Beth Adams, a neurotrauma rehabilitation specialist and case manager at Spaulding Hospital North Shore. Adams diagnosed post-concussion syndrome and connected the couple with doctors including Charlton professor of physical medicine and rehabilitation Ross Zafonte at Spaulding Rehabilitation Hospital in Boston.

Seeing the team of specialists there "has completely changed my life around," John says. He has been on a more systematic regimen of medications for his symptoms, and is receiving cognitive behavioral therapy to learn to manage the mood swings and fatigue.

John is one of more than five million people in the United States living with the long-term effects of a traumatic brain injury (TBI) caused by the sudden force of a fall, hit, or blast. Some injuries leave patients alive but unconscious or severely impaired. Others are seemingly mild, yet cause subtle but persistent changes in mood, memory, and cognitive abilities. An estimated 1.4 million Americans sustain a traumatic brain injury every year, and millions more suffer sports or recreation-related concussions. (Most of the latter recover quickly, but some experience symptoms for months or years.) Among U.S. soldiers who have sustained injuries in Iraq and Afghanistan, one estimate puts the rate of TBI at nearly 20 percent."

Traumatic brain injury and CTE are not as uncommon as we'd like to think.  Veterans who are coming back from Iraq and Afghanistan suffer the symptoms.  How should they be treated medically?  How should the criminal justice system treat them when their behavior is symptomatic of these neurological diseases?  Should the civil justice system be prepared to hold someone accountable for their injuries and disabilities?  All good questions none of which we are able to answer as a society.  We'd better start finding the answers soon or we'll be dealing with many more human tragedies.