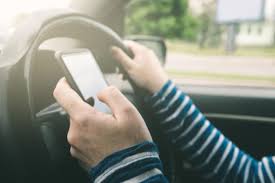 3,166 people died in the US in 2017 because of distracted driving.  Distracted driving is supplanting DUI as the most hazardous road condition in the United States.  An Orlando area emergency room doctor says he sees more patients in the ER than from DUI crashes.
Trauma surgeon Dr. Andrew Skattam deals with the consequences of distracted driving in the Osceola County Regional Medical Center ER regularly.
"We see everything from a minor injury, someone driving over someone's foot, someone clip someone with a mirror, all the way up to a T-bone accident with multiple casualties and fatalities," Dr. Skattam said.
Dr. Skattam says texting and driving has become one of the most common forms of impaired driving they see, even more common than drunk driving.
"I would say it has replaced it, because the number of people who text and drive far exceeds the number of people who drink and drive now," Dr. Skattam said.
And it may be harder to catch and prosecute a distracted driver than a possible DUI.  Only 36 citations for distracted driving statewide have been issued since the new law prohibiting the activity went into effect July 1.
As far as enforcing the rule, Hillsborough County Sheriff's spokesperson said it'll be done on a case-by-case basis.
The Sheriff's Office said texting violations will be treated like any other primary offense traffic violation.
Deputies expect challenges from drivers trying to find loopholes around getting a citation, because they exist.
According to officials, drivers can still use your GPS, look at weather or traffic alerts, or call in an emergency.
Traffic judges might see more work as a result.
Pinellas County Sheriff's officials said their enforcement will go through an education period. They'll give out a warning the first time.
But drivers better make changes, because getting pulled over multiple times for texting while driving will end up in a ticket.
A hands-free requirement while driving in school and work zones goes into effect in October.
Citations will not be handed out for this violation until January 1, 2020.
In the meantime, distracted driving is a real and present danger to our safety.