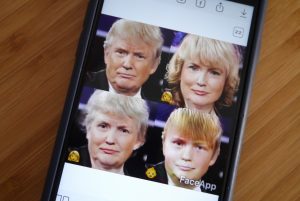 The new Face App has gone viral.  You've seen it on Facebook and it's all the craze right now.  It has been giving people the power to change their facial expressions, looks, and now age for several years. But at the same time, people have been giving FaceApp the power to use their pictures — and names — for any purpose it wishes, for as long as it desires.
More than 100,000 million people have downloaded the app from Google Play. And FaceApp is now the top-ranked app on the iOS App Store in 121 countries, according to App Annie.
While according to FaceApp's terms of service people still own their own "user content" (read: face), the company owns a never-ending and irrevocable royalty-free license to do anything they want with it … in front of whoever they wish.  Are you sure you're comfortable with that?
Now even the Senate is getting in on the fun: Sen. Chuck Schumer (D-NY) has asked the FBI and the FTC to look into the app's data handling practices.
"I write today to express my concerns regarding FaceApp," he writes in a letter sent to FBI Director Christopher Wray and FTC Chairman Joseph Simons. I've excerpted his main concerns below:
In order to operate the application, users must provide the company full and irrevocable access to their personal photos and data. According to its privacy policy, users grant FaceApp license to use or publish content shared with the application, including their username or even their real name, without notifying them or providing compensation.

Furthermore, it is unclear how long FaceApp retains a user's data or how a user may ensure their data is deleted after usage. These forms of "dark patterns," which manifest in opaque disclosures and broader user authorizations, can be misleading to consumers and may even constitute a deceptive trade practices. Thus, I have serious concerns regarding both the protection of the data that is being aggregated as well as whether users are aware of who may have access to it.

In particular, FaceApp's location in Russia raises questions regarding how and when the company provides access to the data of U.S. citizens to third parties, including potentially foreign governments.
It may be fun to see what you may look like when you age but is it worth the risk to your privacy?  Caveat emptor.