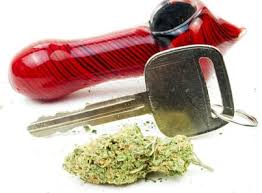 Medical marijuana is legal in Florida.  However, that doesn't mean you can drive after smoking a joint, or does it?
Nearly 15 million people report driving while high on pot, making them twice as likely to be involved in a crash, a new AAA study has found.
The AAA study cites research that driving while cannabis-impaired approximately doubles car crash risk, and that around one in 10 regular cannabis users develop dependence, according to a National Center for Biotechnology Information report that looked at 20 years of recreational cannabis use and addiction. The study also used data on drug evaluations from a 2017 report from the International Association of Chiefs of Police.
Marijuana is legal for medical use in Florida. It's illegal to operate a motor vehicle while drunk or stoned, even with a medical marijuana card.
The annual study, sponsored by the Tampa-based AAA Foundation, also found that nearly 70 percent of Americans feel it's unlikely people driving high will be caught by police. Impairing effects of pot are usually experienced within four hours of using the drug. The study surveyed 3,349 respondents ages 16 and older in 2018.
Getting caught is another matter.  CBS Chicago profiled the issue and found that police in Illinois have no way to check for marijuana impairment.
When it comes to marijuana DUIs, there is no breathalyzer, no one-leg stand, no magic bullet.
A blood test is used, and five nanograms of THC in the blood stream is considered illegal here.
Legalization won't change that.
"It's always going to be problematic until law enforcement and employers are willing to adopt a test that measures impairment versus presence because once they use it, it stays in their system for up to 28 days," said attorney Larry Mishkin with Hoban Law Group.
The same holds for drivers smoking marijuana in Florida.
"It's deeply concerning that many Americans don't consider marijuana-impaired driving as risky as other behaviors like driving drunk or texting while driving," said Mark Jenkins, a AAA spokesman. "Marijuana can significantly alter reaction times and impair a driver's judgement. It is important for everyone to understand that driving 'high' puts you, your passengers, and other motorists in danger."
So, the danger is there when marijuana use mixes with driving but enforcement is another matter.