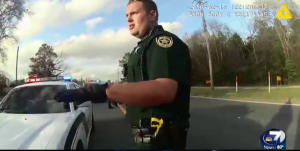 Deputy Zachary Wester is a bad man who ruined innocent lives in Jackson County Florida.  Last week, Wester, 26, was arrested by FDLE agents after an 11-month-long investigation into the drug-planting allegations, first brought to light by the Tallahassee Democrat. He was taken to the Wakulla County Jail and later bonded out after a judge set bail at $169,500.
Wester, who was fired last September, was arrested Wednesday and charged with 52 counts of racketeering, false imprisonment, official misconduct, fabricating evidence and possession of controlled substances, among other charges. He's accused of indiscriminately targeting innocent drivers and hauling them off to jail after planting meth or marijuana in their vehicles while feigning a "search."
"There is no question that Wester's crimes were deliberate and that his actions put innocent people in jail," Chris Williams, the Florida Department of Law Enforcement's assistant special agent in charge, said in a news release.
So far, there are 11 known victims of Wester's crimes.  His victims seem to be indiscriminately chosen but the lives he crushed are not so indiscriminately healed.
Wester, who joined the Jackson County Sheriff's Office in 2016, fell under suspicion last year after a prosecutor noticed inconsistencies in what Wester wrote in his reports and what was captured on his body camera — if he turned it on. The problem was he seemed to leave the device off most of the time, conveniently only recording after drugs were already "found" in a vehicle. In most cases, as in Bowling's, he typically pulled someone over for a minor traffic infraction before asking if he smelled marijuana.
Yet, even after reporting on affidavits that he smelled or even thought he saw marijuana, he typically emerged finding meth. According to the affidavit, meth, marijuana and 42 pieces of drug paraphernalia were found in Wester's trunk.
Whatever Wester's motives were, he ruined lives and deserves the harshest punishment.
Wester isn't the only bad cop recently accused of planting evidence on innocent victims.  A few months ago, a Pasco County deputy was charged with planting evidence on unsuspecting victims.  The alleged incident under investigation happened in November, 2015 during the arrest of Thomas Parisi.  Deputy Stephen Leblanc involved a neighborhood resident in framing Parisi for drug possession which the officer had planted on Parisi.
Given these two incidents and all I've learned during my investigation of the Pasco Sheriff's Office the last few months, someone should be policing the police.  The situation is out of control and dangerous for all of us.