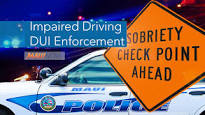 It's that time of year again.  This particular year Independence Day falls on a Thursday and many people are taking an extended weekend which usually means over-indulging in liquor.  The police will be out in force starting tonight and throughout the weekend.  There will be DUI checkpoints in Pinellas County and if you've been drinking or taking drugs, even prescription drugs, you can get charged with DUI.  This goes for boaters too.
If you're stopped and submit to a breathalyzer and blow a .08 you will be under arrest and spend some time at the 49th St. Motel.  If this is your first conviction, your fine will be between $500-$2,000. If your blood alcohol level is .15 or higher, or you have a minor in the vehicle, the fine will be between $2,000–$4,000.
Community Service: If this is your first conviction, you will need to serve a mandatory 50 hrs of community service or an additional fine of $10 for each hour of required community service.
Probation: For first convictions, the total period of probation and incarceration will not be greater than 1 year.
This doesn't count potential problems with your employment and the impending skyrocketing insurance you'll be facing.
Now, this doesn't mean you can't enjoy the holiday and drink.  It does mean you shouldn't drink and drive or operate a boat.  If you know you're going out this weekend and you plan to drink, find someone who will serve as a designated driver or call AAA for a ride.
AAA is once again offering its "Tow to Go" program for people who decide not to drink and drive on the Fourth of July holidays.
The free service launched Tuesday morning, and ends at 6 a.m. Friday. The tow is good with a 10-mile radius. It's for anyone – even non-AAA members. The company said they will also drive you home, but this option should be used as a last resort.  "Tow to Go" is available for drivers in Florida, Georgia, Iowa, Michigan, North Dakota, Nebraska, Tennessee, Wisconsin and parts of Indiana. Those who are interested should dial 855-286 -9246.
If you choose not to heed my advice and get arrested, give me a call.  You're going to need a good lawyer, trust me.